82
If you're looking for a family holiday, a romantic break for two or just wants to retreat on your own, see some of the most amazing campsites everyone must visit.
From April to October- you can enjoy a fabulous holiday all year round. Not only campsites are great for being near the beach or lakes- they are so affordable, you probably could camp a few months if you could!
Why Go Camping In France?
Camping in France is guaranteed fun, a great variety of beautiful grounds and they are secure. The surroundings can be enjoyed close to the campsite giving you lots to do on your holiday. As mentioned in my other french blog, you will certainly get to enjoy France in the midst of summer with soaring temperatures up to 40 degrees. 💥 💥 💥
You can cool off at campsites just outside the forests and nature where many parts are shaded yet can still enjoy the sun in a short walk.
Out of season, you will expect to find it nice and sunny here up until November which is plenty of time to get to see and do before the campsites close and the weather changes. Campsites are usually open until October and a much more enjoyable way of seeing different parts of the country. If you love being near nature and like outdoor activities like cycling and swimming, then id definitely recommend you to try camping in France.
Do Campsites In France Allow Motorhomes?
Yes- there are plenty of campsites in France you see quite often mainly motorhomes and tents. Others supply a whole range of mobile homes but you can be sure there are always places to pitch a tent. Take your motorhome/RV, rent a mobile home for a week or if you like the idea of camping outdoors, grab a tent and enjoy your holiday your own way.
Pitches are reasonably cheap in France and its a great way to explore without the expense of hotels. Mobile home rental is well worth the money with comfort. Inventory is given for your kitchen, bedding table, chairs, and sun loungers.
What You Can expect On A Family Holiday
Campsites in France have plenty of activities and space to keep the kids occupied. Most campsites offer swimming pools and kids club where they have their own program for kids entertainment even for parents too can be found dancing on stage perhaps to Zumba or other keep fit programs. Family holidays are great here with all the amenities given and kids usually find themselves a few friends or two along the way! As a family, you can enjoy French beautiful beaches, buy ice cream and ride out on bike hire. Night entertainment is amazing so even at the end of a long day, you can sit back and enjoy the shows.
Night shows are just awesome!

Enjoy the water parks that sometimes have aerobics and other fun stuff
Camping For Couples
Just the two of you can enjoy the bars, coffee shops and a romantic stroll on the beach.
Most campsites are near lakes, rivers, mountains and along the coastline. You both can enjoy a romantic candlelight dinner in a local restaurant trying local wines to finish the night perfectly.
Couples can also get to enjoy nightly entertainment in the bars situated in the campsites where you can enjoy music and socializing with other holidaymakers.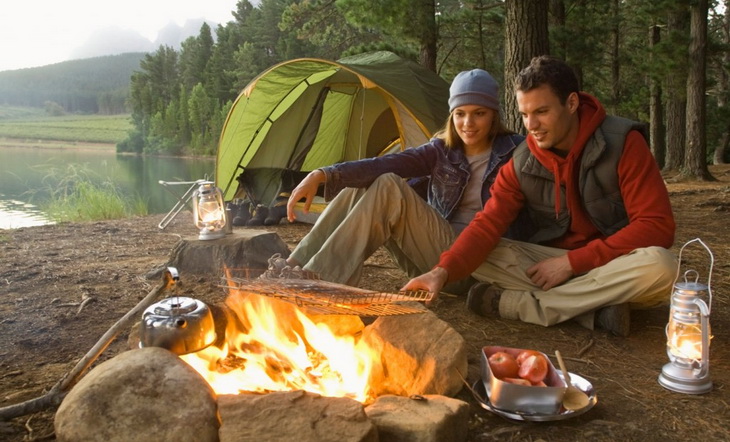 France caters to everyone even if you would rather keep to yourselves- you will surely find a beautiful relaxing place to unwind.
Going Solo
If your single or want a break from your usual routine, I would recommend visiting the smaller campsites where you can enjoy the area, tranquillity and the weather.
Want something a bit more lively? Head on to the west coast where you will never be short of finding entertainment! The thing is in France, many sunbathe alone, enjoy a book in bars alone and you don't feel out of joint just because you're not in a group. Who says you need a crowd to have fun!
……. What about Us- We Love Surfing!
There is only one place I would recommend for surfing and that is the west coast!
With people returning back every year to compete in the Lacanau surfing championships, I'm sure you and your friends will have one great surfing holiday you will never forget!
Wave and wild, book now to LACANAU!

Keep up to date on surfing events https://www.worldsurfleague.com/events/2020/mqs/3413/caraibos-lacanau-pro-tentative
Lacanau events diary https://www.france-voyage.com/events/lacanau-ocean-commune-90266.htm
So Now You Have an idea of what camping in France is like, let's get to it–
The Best Top 5 Campsites I Have Lived In & Loved!
****** Recommended*******
1. LA PALMYRE LOISIRS, LES MATHES
La Palmyre Loisirs has to be the number one I would recommend for families, couples and singles!
With its lively atmosphere and large campsite, it is not hard to miss that everyone loves it by the smiles on faces. Close to the beach, nice places to eat and make sure you visit St Palais as its not too far- its stunning!
Situated on the campsite and just up the road, you will find CycloTrott bike hire where you and the fam can hire a bike and hang out for the day along the coast. There are tons of bike trails here- you won't go short of them. Lots to discover around Les Mathes and the campsite has great entertainment.
If you like a lively atmosphere- pick this one! I would not recommend this to those looking for a quieter time though, as at night the music is quite alive and the bar is bustling with entertainment! However, you can always book your spot at the far end of the campsite where you are further away from the bar. There is also a shop on site where you can pick up some croissants for the morning and evening snacks. Everything you could want is definitely here- plenty of food options too!
Fancy booking? Find it here https://www.palmyreloisirs.com/
2. CAMPING FERRAND
Camping Ferrand is based on the most tranquil part of France just on the tip of the french mountains at Aigue-Belette.  Here you can enjoy getting away from it all sounded by beautiful lakes and lovely places to wine and dine.
If you like plenty of fresh air without the clutter of lively madness – I would definitely recommend here for some time out. This campsite is owned by a nice couple who go out of their way to make sure their guests are welcomed and its always been a jolly atmosphere every single visit. Be sure that after your visit, you will feel happy and refreshed.
The campsite is not big and doesn't have the same amenities that La Palmyre has above, but the idea is to come for a relaxing holiday.
If you love lakes, mountains and good food, make sure you don't miss out here!
The weather is gorgeous but those that love a good storm, you will definitely witness a discotheque storm here from time to time 😂 😂 😂 🌩️ 🌩️ 🌩️ so make sure your tent is fully waterproof.
I have never seen mobile homes here so I would not recommend if your looking for this type of holiday. It is usually tents and motorhomes. You can find yourselves some nice places to enjoy pizza, ice cream, and nice restaurants nearby and relax by the lake. You will also find here boat hire where you can go for a paddle at a good rate for half an hour or so.
So- Who would I recommend this place to? Couples – it's such a beautiful spot, be sure to enjoy some quiet time with your other one and families come here too which you will usually find looking for a quiet time. The campsite is actually on the edge of the lake where you can all go for a swim and enjoy the views of the mountains.
Don't forget to bring your bicycle- its a great way of getting around the lake and see it all if you don't want to drive.
Is this what you are looking for on your next holiday?
Book here- let's go! http://camping-aiguebelette-ferrand.com/
3. CAMPING LES DUNES, BRETIGNOLLES
This campsite is situated literally within sea reach on he north coast. Grab your kite and enjoy a breeze along the coast. Quite often you will see surfing and guys having wild times on the waves.
At Camping Les Dunes, you will find a lovely atmosphere with plenty of the coast to cover. The campsite itself has a pool for you and the family to have a splash about and the kids have great fun. If you like to be near a beach then I would definitely recommend it here. The beaches are clean and you can enjoy a stroll with the nice weather.
There are lots of sporting activities on site so its great for sporty people alike that like to hang out in tennis and that sort of thing, then you will certainly be able to enjoy it here.
Bretignolle Sur Mer is beautiful and this campsite is a must-see as it has everything you need without having to walk far. It has a restaurant, bar, supermarket, and entertainment.
Who would I recommend to come here? Everybody no doubt!
There is everything you could want from a holiday here. It is family-friendly, couples can enjoy the beach and entertainment, kids are continuously happy with the entertainment and everyone can enjoy the beautiful coast. You can get the best of both worlds here!
Like what you hear? Book Now! https://www.campinglesdunes.fr/
4. LE CLARYS PLAGE HOLIDAY PARC, SAINT-JEAN-DE-MONTS
Only 400m from the beach, you will find lots of things to see and do here. There is a beautiful waterpark where you can enjoy a family day out- or play out like kids!
Family-friendly, you will surely enjoy everything you need for a family holiday. Here you find a spacious bar, enjoy the nights of music and entertainment. It has been upgraded to ensure an even better holiday experience so be sure if its a family holiday- this is the place you must go! Enjoy some downtime in a jacuzzi and perhaps go to the games room after where you can enjoy a game of pool and even more fun to entertain the kids.
With Clarys Plage being a 5-star campsite, I am sure it will not disappoint! It also hosts a children's club to ensure they get the best of their holidays.
Like what you see? Book Now https://www.campinglesdunes.fr/
5. AIROTEL L'OCEAN ET SPA, LACANAU
*Top 5 campsites in France
Love surfing? This is THE place to go!
Grab friends and family and make sure you enjoy a great day out on the waves.
You will find the pitches in partial shade but not too far away you can get the full beam of the sun at the beach. There is something about this campsite where you feel at home after the first day. It feels rather calming and within a few days, you will be hoping to stay!
The waterpark is divided into two sections where you can enjoy the indoor or outdoor pool. Lacanau is well known for it's surfing but it's not all about that. From working on campsites to motorhome hire- people have come back from their trip with great reviews time after time After many times of asking how did your holiday go and where did you go- Lacanau has been the most popular destination!
There are hundreds of campsites I have visited since but these are my top five I have worked on previously! 
Book your flights and accommodation here
Suzy Kiely
Editor & Founder
Don't forget to follow me on Instagram, check out our store for your holiday- shops some items there  https://bonvoyageabroad.com/holiday-shop-buy-items/ and share your comments below 🙂